TAMU Koh Rong is located on Pagoda Beach, KOH RONG ISLAND. The closest mainland city from Koh rong is Sihanoukville equipped with an international and domestic airport (flights from/to Phnom penh, Siem reap, HCM city, Bangkok, Kuala lumpur…)
You can find below all the options available to reach and to leave the island: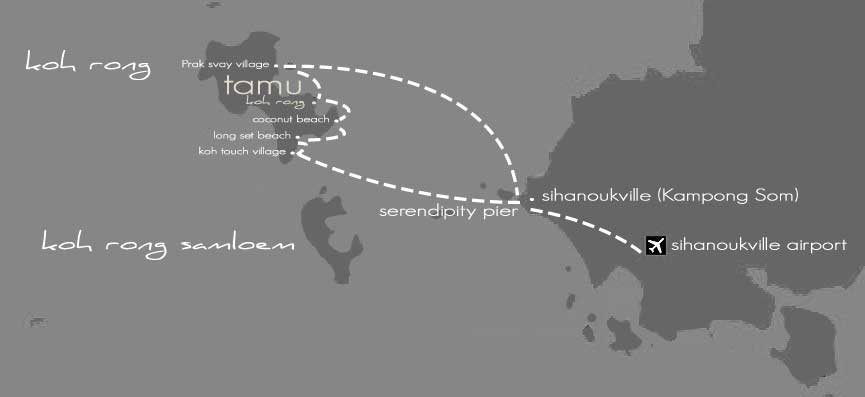 Reservation mandatory, at least one week in advance by replying to this message to send an email to [email protected]
Option 1 (highly recommended):
• New Direct Speedboat from/to Tamu Koh Rong-Pagoda Beach : The Dolphin boat
Reliable in terms of schedule.

The price: 20 USD one way, 40 USD round trip, per person, free for children below 4 years old.

Duration: around 45 minutes, it is a direct boat from Sihanoukville to Pagoda beach.
Departure from Sihanoukville: 1:15 pm and 5 pm (please be there 30 minutes before departure)

Departure from Pagoda Beach-Tamu: 8.45 am and 1:45 pm
Payment: on the boat by cash or at the hotel by cash or credit card.

Speedboat Address in Sihanoukville: Port of Sihanoukville Gate 1 (near White Horse Garden).
https://www.google.com/maps/@10.6420673,103.500503,18z

PLEASE TAKE NOTE THAT DELAYS ON THE SCHEDULE OF THE SPEEDBOAT COMPANIES MIGHT OCCUR. HOWEVER, WE CAN NOT TAKE RESPONSIBILITY OF ANY DELAY.
Speed Ferry Cambodia, Buvasea and GTVC are the other local speedboat companies.
You can book online https://www.camboticket.com/?aff=86 or when you arrive at Sihanoukville port. They can drop you at Longset Beach or Coconut Beach but then you need transportation to reach the hotel. It can be by mototaxis (around 8 $ per pax) but no concrete roads or by longtail local boat (between 20 to 50 usd according to availability and number of passengers). We can help you to book.
As we are on an island and the weather is changing fastly, we do not recommend you to book a flight in the morning of your check-out day, the speedboats may be late or cancel their journeys without notice.
Serendipity pier and pier 1 in Sihanoukville are 45 minutes – 1 hour from Sihanoukville international airport (flights from Siem reap, Bangkok, Kuala lumpur and Ho chi minh city).
From downtown Phnom Penh, Sihanoukville is 4:30 – 5:00 hours drive by car. Our reservation team can help you to arrange taxi from Phnom penh or from Sihanoukville airport.